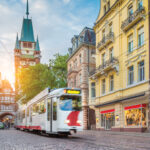 Making Ireland's public transport safer and easier to use
2nd November 2023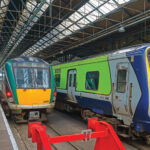 All-Island Strategic Rail Review: Draft report published
2nd November 2023
In spite of new emissions figures, released by the EPA in July 2023, stating that emissions from the transport sector are increasing, Climate Action Plan 2023 makes little mention of rail transport save for vague references to "continued investment" in rail networks.
Climate Action Plan 2023's proposals for the rail sector are all somewhat opaque, with one goal to identify a pathway to appropriate decarbonisation of interurban rail services, which it states is to be informed by the then-unpublished All Island Strategic Rail Review (AISRR). However, even in the AISRR, which was only published in draft form in July 2023, there is only a generalised goal in this regard to "decarbonise the rail network via electrified intercity lines, alongside hybrid, hydrogen, and electric rolling stock".
CAP23 also outlines a goal to accelerate renewable electricity generation, which it states will require Ireland to "enable the use of the public road and potentially the rail networks for routing of new public and private electricity circuits".
One specific target is evident in CAP23 in the goal for an expansion of electrified rail services fleet electrification to contribute to a total abatement of 1.96 MtCO2eq in Ireland's carbon budgets. However, in spite of this objective, the latest report by the Climate Change Advisory Council stipulates that Ireland will not meet the targets set out in the first two carbon budgets "unless urgent action is taken immediately".
CAP23 outlines the rail element of the Major Public Transport Infrastructure Programme, which forms part of the National Development Plan, requiring delivery of phase one of the Cork Area Commuter Rail Programme; in addition to "expansion of regional rail services; and continued appraisal, planning and feasibility studies for new light rail services".
The latest emissions report by the Environmental Protection Agency (EPA) outlines emissions from the transport sector for 2022. The figures are stark; the transport sector accounts for 19.1 per cent of Ireland's greenhouse gas emissions, with a 6 per cent increase in greenhouse gas emissions in the transport sector recorded between 2021 and 2022.
The report states that emissions from road transport were "relatively stable" for the period 2015-2019, at an average 11.6MtCO2eq but reduced to 9.7MtCO2eq in 2020. However, with the easing and ending of travel restrictions in 2021/22, road transport emissions rebounded to 10.3MtCO2eq and 11.0MtCO2eq respectively. Given this, the need for expanded public services is self-evident if the transport sector is to play its role in emissions reductions.
It is for this reason that Minister for Transport Eamon Ryan TD has sought to implement the OECD's 'avoid, shift, improve' transport model, following the publication of a report in 2022 which stated that Ireland's transport systems "fosters growing car use and emissions by design".
However, the extent to which there will be an expansion of rail infrastructure is unclear, as the AISRR itself does not commit either the Government of Ireland or the Northern Ireland Executive to implement the 30 recommendations made in the review. "Each of the recommendations described in this report would be subject to separate appraisal and decision in line with applicable governance processes in each jurisdiction," the AISRR says.