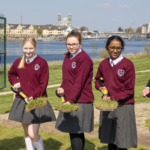 Uisce Éireann: A national utility investing in communities
30th August 2023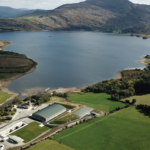 Developing resilient water supplies to address climate change
30th August 2023
In recent years, Ireland's housing crisis has been a prominent topic of public discourse. As the population grows and the need for new homes increases, this puts pressure on existing water and wastewater infrastructure.
In response to the housing crisis, Uisce Éireann is now playing a critical role supporting housing delivery by expanding the existing water supply and treatment network to ensure that new and existing developments have access to a reliable infrastructure.
Yvonne Harris, Uisce Éireann's Housing For All Programme Director explains: "Uisce Éireann is committed to playing its part in the national drive to provide homes to people who need them by developing and prioritising the delivery of key water service infrastructure and making progress in this area is a top priority for us.
"We have a dedicated team working closely with local authorities to inform their development plan preparation process, including the tiered zoning of lands to support the delivery of housing. We have also developed capacity registers to show whether there is enough water/wastewater capacity in an area for development, enabling developers and local authorities to prioritise development in areas with services.
"Uisce Éireann has a key role to play helping communities around Ireland to thrive by supporting the delivery of housing", she continues, adding: "We have increased our capability to support connection applications and offers and onsite quality checks. In 2022, water infrastructure supported almost 37,000 housing connection offers, up 4,500 on 2021. These numbers are on track to increase further in 2023 with 21,990 connections already offered up to June this year as Uisce Éireann keeps up with industry demand. This includes over 4,250 connections to water services infrastructure associated with over 25,000 homes.
"Meanwhile, our connections team issued positive responses to 3,190 pre-connection enquiries associated with 116,647 housing units. Of those positive responses issued, 92 per cent were within 16 weeks."
Early engagement has been an important factor in maintaining momentum on new connections. "Anyone considering developing housing should engage with us as early as possible through our free pre-connection enquiry process," the Housing For All Programme Director outlines. "We can assess the feasibility of a connection to our network and advise on the best way to progress a project."
Working with a wide range of stakeholders, including developers, the construction sector, chambers of commerce, local authorities, government, and others, Uisce Éireann has continuously refined its connections process to ensure it is fit for purpose.
It aims to build effective partnerships to meet the housing supply challenge, to listen to its stakeholders by hosting, presenting, or attending relevant conferences and events relating to housing and to take action to support the delivery of water infrastructure where and when it is needed.
Working with the Commission for Regulation of Utilities (CRU), Uisce Éireann has also developed a first mover disadvantage (FMD) policy proposal to mitigate 'first mover disadvantage' for developers. Approved by the CRU in May 2023, this initiative will support housing delivery and share costs more equitably amongst developers who are connecting to water services. Developers will now be compensated for water and wastewater infrastructure development which others may use for subsequent site development.
The first mover disadvantage policy follows several other successful initiatives that Uisce Éireann has already delivered including a Self-Lay in the Public Road programme and a new Experience Based Accreditation Scheme that will accredit experienced contractors to deliver new water services infrastructure in public roads for housing developments.
The utility has also collaborated with the construction industry to encourage sustainable water management, launching the Water Stewardship and Sustainability in the Construction Sector campaign, in partnerships with the Construction Industry Federation, Irish Home Builders Association, Irish Green Building Council, Cairn Homes, and SISK. This initiative promotes the use of water-efficient appliances, like percussion taps, twin flush and low-water-use toilets, as well as encouraging rainwater harvesting and greywater reuse systems.
The development of water infrastructure to support the delivery of housing is a critical step in addressing Ireland's housing crisis. By ensuring that new homes have access to a reliable water supply and wastewater treatment, Uisce Éireann is enabling the growth of sustainable settlements and reducing the strain on existing infrastructure. With ongoing investment and collaboration between stakeholders, supporting the delivery of housing will remain a priority for Uisce Éireann well into the future.
W: www.water.ie