Protected: Presentation download 2022
28th September 2022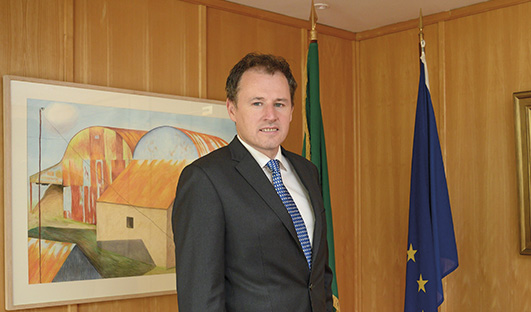 Agriculture minister Charlie McConalogue TD: Turning the tide in agriculture
3rd January 2023
The sustainability agenda has moved on from installing a few light bulbs and quick wins. There is a growing demand for transport that is sustainable in terms of the impact it has on society, the environment, and the wider community, writes Colin Ward, Head of Environment, Health and Safety for Dublin Bus.
It is broader than sustainable sources of energy for transport and the efficient use of clean fuels. It necessitates the overall reduction of greenhouse gas emissions and harmful waste as part of the full lifecycle view, all the way through the supply chain. It also requires improvements to the energy efficiency of the modes of transport themselves, to the efficiency of the transport operations, and to the effectiveness of the overall system, whilst all the time not hindering the mobility needs of future generations.
As the largest public transport company, it is our responsibility to embed sustainable practices in every aspect of our business, from the vehicles which carry our customers, to the energy and materials we use throughout the organisation. Dublin Bus is a provider of sustainable mobility solutions and an enabler of change.
But what does this mean for our customers?
Well, every time one of our customers chooses the bus, rather than taking the same journey by car, they are reducing their own carbon footprint and making a positive contribution to the environment.
Every full Dublin Bus means a 92 per cent reduction in carbon emissions for every kilometre travelled by our customers compared to the same journey taken by car.
We are working relentlessly to keep our communities connected and ensure that, even as it continues to grow and develop at pace, Dublin will be one of the most liveable cities in the world.
Putting our commitment into practice
Encouraging modal shift is a fundamental part of our strategy. This means making public transport, specifically by bus, a more compelling and attractive alternative for those who currently rely on their cars for journeys. Whether that is to and from work, for school runs, shopping trips or when enjoying sporting, cultural, and leisure pursuits. Helping commuters to reduce their reliance on the private car has to be the priority.
We all know that sustainability and the climate crisis is the defining issue of our time. Dublin Bus recognises that we must play a significant role in helping to improve Ireland's overall performance in this regard. That is why we are working to deliver accessible, low-cost, frequent, and zero-emission bus services which are fully integrated with a suite of flexible transport solutions. All this making door-to-door journeys for all of our customers easy and enjoyable. Looking to the future, the goal is to offer a low or zero-emission option for every journey and for this option to be the most cost-effective and attractive one. This will make a significant contribution towards making Dublin one of Europe's most sustainable cities, and one of the best both to live in and to visit.
Our goal is a cleaner, greener city, with multiple transport services integrating and working together seamlessly, but we know we cannot do this alone.
The greater the number of clean and efficient transport options available, the healthier and more sustainable the city will be, now and into the future. A range of complementary solutions are possible, including improved provision for cyclists and users of e-bikes and e-scooters. We're actively exploring how Dublin Bus can supplement our core bus services with other complementary, sustainable modes of transport, to ensure that we are the most sustainable public transport operator in Ireland.
Delivering for Dublin
Regardless of the industry, we've all become more aware of the fact that focusing on these topics is not only an opportunity to advance sustainability awareness, but it is also an important source of competitive advantage and stakeholder engagement.
Therefore, many organisations strive to build a culture of sustainability and engage their employees in their process of sustainable growth. Employees shape a company's culture, and this is especially true in Dublin Bus.
So, I am delighted to see the company's continued progress across a range of sustainability matters, and endeavours to improve our long-term sustainability and resiliency, which ultimately benefits our company and the communities we serve.
Recent progress includes:
over 200 hybrid-electric vehicles introduced to the fleet;
24% improvement in fuel efficiency since 2008 baseline;
39% less CO2 emissions since 2008 baseline;
over 75% of our fleet now utilises Euro 6 emission engines;
ban on single-use plastics;
74% recycling rate achieved for non-hazardous waste;
biodiversity and beekeeping initiatives in Phibsboro and Broadstone depots;
solar PV system fitted in Phibsboro depot; and
65 grassroots, voluntary and community groups operating around the capital and Greater Dublin Area were awarded a grant of €1,000, €2,000, or €5,000.
We will not, however, stay successful by standing still; we have to get ahead of the next wave and catch it.
In the past few decades, we have made the right calls: a more sustainable fleet, employee initiatives, prioritising the customer experience, embracing technology, and enabling change.
But what are the right calls for the future?
It is our responsibility to embed sustainable practices in every aspect of our business from the vehicles which carry our customers to the energy and materials we use throughout the organisation. It goes without saying that we comply with all applicable legislation and directives and that we ensure that pollution and waste are prevented wherever possible.
This is necessary but not sufficient now. We have always believed in best practice and continuous improvement in Dublin Bus. This is reflected in the performance of our employees, vehicles, buildings, and equipment. This is measured and analysed as part of our key performance indicators and various management systems. We have dedicated resources to ensure we identify areas in which we can improve and effect the necessary changes. We can always do more to prevent waste. We can always do more to reduce energy consumption and we can always do more to embrace technology. This goes from introducing zero emission electric buses onto our routes, to enhancing the installation of renewable energy systems to reduce our reliance on fossil fuels for power.
Our commitment is that wherever we find we can do more to improve our sustainability initiatives, we will. We need to be as sustainable as we can in everything we do as an operator. We also have a responsibility to help our customers to do the same.
Underpinning all this work will be our new sustainability strategy. This strategy will be published in the coming weeks and will guide our work over the next number of years, moving us from a proactive, toward a purpose driven organisation.
The road ahead
Climate change is a long-term, systemic impact that requires immediate and adequate action. This action must now be sustained over decades. It requires companies like Dublin Bus to fully embrace a culture of sustainability and provide solutions to others who cannot change in the short term.
I am under no illusion of the enormity of the task ahead of us all; it will take hard work, dedication, and commitment to maintain and build on what we have already achieved. However, we are doing this because it is the right thing to do for our company, communities, city, and all of our futures. I know with the right longer-term focus that Dublin Bus can lead the way on Ireland's sustainability plans, and ensure we do not have to rely on a Plan B, because there is no planet B.
While the challenges being faced are clear, so too are the risks of not rising to meet them, and with continued hard work from the 3,500 strong Dublin Bus team I believe we can make a real difference. Future generations will not thank us if we do not do all we can. I know Dublin Bus will meet the moment.
S: @dublinbusnews
W: www.dublinbus.ie